If our culture is learning how to interact with virtual assistants at home, how does this shape the future for delivering IT assistance to hospital employees and patients? What might the IT help desk of the future look like?
Virtual assistants in the home are just one example of an automation strategy. A recent survey from Gartner Research Circle shows that "41% of enterprises are using virtual assistants or plan to use them by next year, and 23% are using or planning to use conversational interfaces."
Automation is already being used as a strategy to help mature and modernize IT service desks. For example, building automation to route a physician's call into a specific call prioritization is critical to satisfaction and patient care. In addition, metric and process analysis can highlight areas to automate and reduce overall contacts – often referred to as the shift-left strategy. Let's dive deeper into ways an automation strategy can help your IT help desk.
Explore automation opportunities.
For the IT help desk, automation tools often reduce the contact needed with an agent because users can get answers to IT issues independently. Behind the scenes, automation can be applied to route specific clinical area support requests, or connect support teams from various locations or coverage areas seamlessly. Further, automation can be applied for ticket trending and analysis. What are the opportunities for automation you could explore that streamline the impact to caregivers?
Start prioritizing calls. Get your queue right.
Start prioritizing your calls and use automation to manipulate the queue so that physicians and patients get their questions answered first.
We began our partnership with Ardent Health Services in 2016, stepping in to provide support for legacy systems. Over the years, we worked to drive process improvement and customer satisfaction and began providing Level 1 and Level 1.5 help desk support in 2020.
In this case study, one of the automation strategies used was queue manipulation and prioritization so that calls from physicians would be answered more quickly and routed to more experienced resources. The results: calls from Ardent physicians were answered three times faster than calling into a standard line. Using automation led to stronger physician satisfaction and reduced risk that the issue being reported would impact patient safety.
We also used a similar strategy for patients calling in regarding telehealth appointments in their Epic MyChart account, along with proactive call outs to ensure patients on the schedule were setup properly before the appointment day arrived. Looking at automation as a valuable resource that supports patients with these issues helps drive efficiency, satisfaction, and the health system's reputation with physicians, clinical staff and patients.
Get the right resource for the issue.
Another way to automate and mature your IT help desk is to ensure the right level of support agent is assigned to the IT issue. For example, after analyzing high-volume issues that are currently being escalated to level 2 support agents, determine if the incident could be resolved by a level 1 agent if they are given additional access and training. If yes, "shifting-left" the issue resolution from the level 2 agent to the level 1 agent can free up level 2 resources so they can focus on more difficult issues and true enhancements for the organization.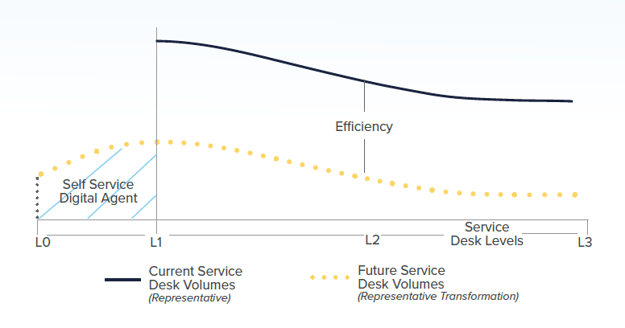 The executive brief on Optimize the Service Desk With a Shift-Left Strategy from Info-Tech states, "Shift left; shift all the way left. Don't just stop at shifting tasks to Level 1 support; the greatest return on investment from a shift-left strategy is empowering users with the resources to solve their own issues, and the ultimate goal should be the prevention of a ticket reaching the service desk at all."
Additionally, there may be incidents or requests placed via the Self-Service Portal that should not be handled by the Service Desk either due to the complexity of the issue or the access that it requires to perform the task. For example, requests from a pharmacist to make medication formulary modifications is not a task that a Service Desk would typically handle. In these cases, CereCore worked with customers to automatically route those incidents directly to the second-level team responsible for solving the issue. By removing a level 1 resource from the incident lifecycle and placing the request directly in the hands of the responsible individual, the speed to resolution increases and the streamlined process provides cost-savings.
Start with the right metrics
Defining the correct metrics is critical. The service desk sees all of the issues on the front line— all incidents that are submitted to your service desk—hardware, software, or any other area within your technical environment. This puts health IT leaders in a unique position to gain insight regarding the health of your environment. The amount of data that can be pulled from those types of issues can help drive organizational improvement beyond the service desk level. For example, an issue that is resolved at the root cause can rule out any front-line clinicians experiencing the problem. Defining the right metrics is essential to delivering value to the organization from a service desk perspective.
Rick Keller, CIO at Ardent Health Services, says, "Weekly and monthly CereCore metrics are allowing us to work with our markets to learn from each other. Who's doing what better, or who's not doing as well. We are analyzing why there may be more calls for password resets from New Mexico than from Texas, and we are finding many such opportunities to continually improve and refine our processes."
Get more from an IT Help Desk
Are your physicians, nurses and patients happy with your IT Help Desk? Are your teams spread too thin to provide the level of service that physicians demand? Are you curious about how the shift left strategy could transform the experience your users would have and the productivity of your staff?
Maybe it's time to think about a different service model for your IT help desk. We offer support desk services with a unique perspective – the perspective of hospital operations. We understand the impact technology can have on patient care, because we have walked in our customer's shoes and understand the sense of urgency required when you have a physician, clinician or patient calling about a technology issue.
Read more about our experience using service level metrics to uncover hidden costs, increase user satisfaction and efficiency in our eBook Diagnosing Your Health System's IT Support Desk.